Today we went out with Rafael Hernandez of Wine Country Trailrides for a horseback ride through Larson Family Winery in Sonoma. The vineyard is known for award-winning Cabernets, and its relaxed, family friendly atmosphere. It's also the only vineyard that I found in wine country, which has horseback riding that is open to the public. It's a great place to go to experience riding through a vineyard.
Originally, Rafael came recommended to me by a friend. He has truly wonderfully behaved horses and a beautiful setting to soak in wine country on horseback and then, of course, taste some of the Larson family's wine.
Most Sonoma summer mornings are foggy and cool, but this burns off by mid-morning. We filmed a bit around the vineyard, before mounting up to tour it on horseback. Rafael is a professional polo player, so he practiced a bit in one of the outer fields and then paired me up with Socks, a chestnut Quarter Horse. We got along just fine, as our small group rode off into the vineyards.
There is something romantic about riding through a vineyard. Rafael talked a bit about the history of Larson Family Winery and educated us on the different rows of grapes that we passed. The harvest time is in September or October, so these grapes, though they looked edible, will make you pucker if you eat one now.
It was interesting to ride down rows, where one side held grapes for Cabernet and the other side had a different kind of wine. Rafael knows his horses and his grapes. So does his daughter, Vanessa, who also rides with us. The bright blue skies juxtaposed with the green vines made the ride very picturesque. It was just what I had imagined riding through a vineyard would be like.
Larson Family Winery is no stranger to horses. Rafael talked about the Sonoma Rodeo, which welcomed crowds of thousands from 1929 to the 1950's. There were black and white photos on the wall inside the tasting room, showing women dressed in fancy costumes and also a young Seabiscuit, who apparently spent some time on the grounds as well.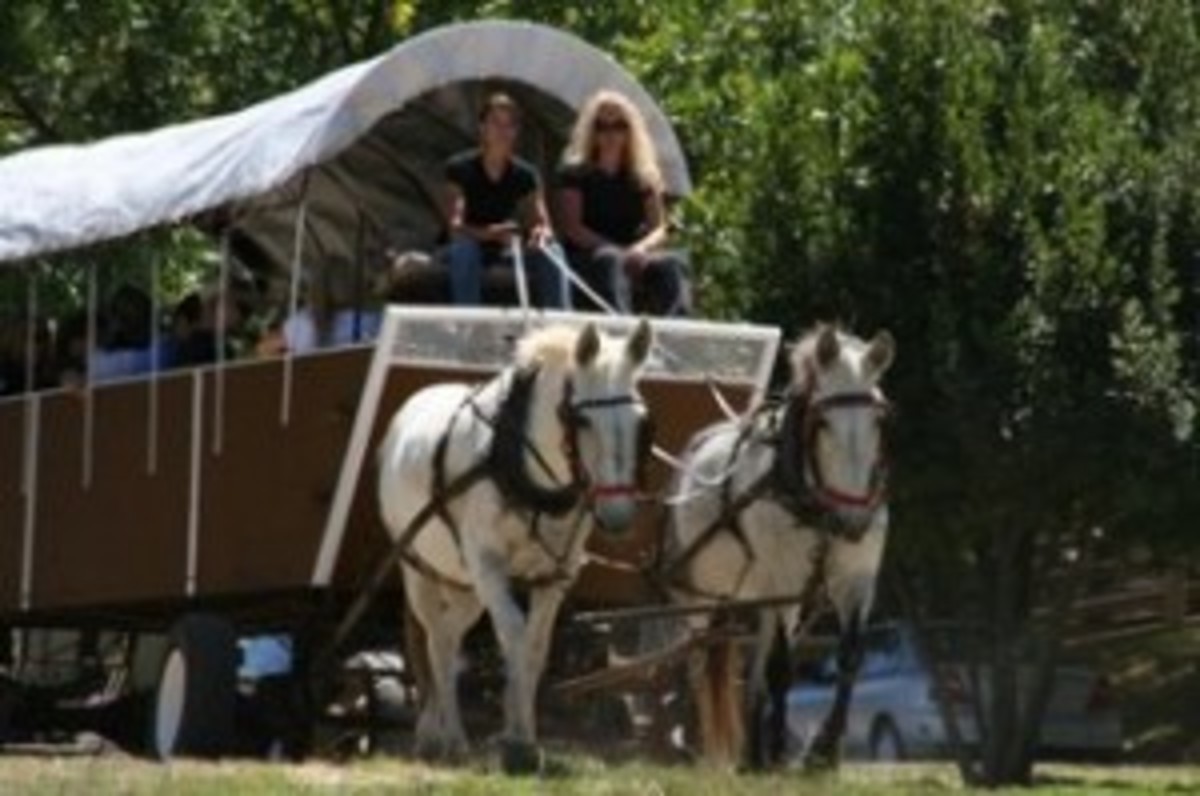 After our ride, we enjoyed live music and lip-smacking good BBQ from a local catering company, Blazing Saddles BBQ, outside by the bocce court. The Larson family was there. Becky Larson gave a toast not only to the family and friends surrounding us, but how great it is to have horses on the property. I couldn't agree more, as I sipped one of their award winning Cabernets.
After lunch, we piled into the wine train, a wagon pulled by Huey and Duey and went for another spin through the vines. It was a great way to end the day.
Larson Family Vineyards is really close to the main plaza in downtown Sonoma, making it a convenient stop on your wine tasting adventures. No matter what level of rider you are, definitely check in with Rafael while in Wine Country. With good horses in a beautiful setting, you'll find his rides a lot of fun and a very unique experience.
Next stop, our Sonoma bike tour? stay tuned.
Learn more about Equitrekking on PBS and the California Wind Country episode and learn about exceptional equestrian vacations at EquitrekkingTravel.com.